Being a traveler there are ample of places worth exploring within the mother Lanka. Out of the all followings could be found as the places that should be at the top of the bucket list of a local traveler.
1. Meemure Camping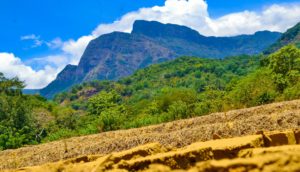 Meemure is one of the most rural and remote villages in Sri Lanka, located in the Knuckles mountain range, bordering between Kandy and Matale. Meemure is best known for its beautiful natural landscapes and waters. The camping experience at Meemure is exceptional, filled with realistic experiences in jungle camping, jungle trekking, waterfall excursion and water adventures. You can even have campfires & BBQ night inside the jungle with the help of local villagers. Meemure offers guests an opportunity to live in the ancient isolated village away from the busy towns, where the local people have maintained their traditional and cultural attitudes towards the forest's existence.  You can also visit the Lakegala mountain and mini world's end in Knuckles range which is another attraction of Meemure. This is an enjoyable experience for anyone who loves travelling and a perfect place to embrace the serenity of nature.
2. Kitulgala White Water Rafting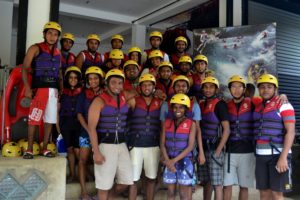 Kitulgala water rafting site is Located in Hatton road and around 40 km away from Awissawella town. This natural water track is in Kelani River forms an adventurous rafting experience, covering 5 major rapids and 4 minor rapids within a distance covered around 5 KMs.  No only white water rafting, there are plenty of other activities you can do in Kitulgala, including flat water rafting, waterfall abseiling, bird watching, river baths, water sliding, adventure jumps, forest trails and also the rain forest adventure camping. This is a total different experience and a must do activity in Sri Lankans' travel diary.
3. Yal Devi (Jaffna) & Podi Manike (Badulla) Train Journey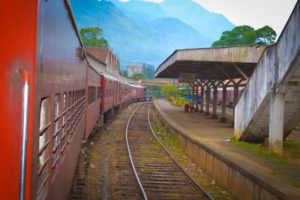 After a lapse of 25 years, the Yal Devi once again returned back on track all further linking the north and south. It starts from Colombo Fort and going to Jaffna/Kankasanturai covering almost 400 km. The journey takes around 8 hours in the train and covers almost 8 districts. Podi manike starts from Colombo – Fort and completes its journey from Badulla. It covers almost 300km and passes the most beautiful locations in the hill country. If you are a nature lover, this can be known as the best train journey you can ever experience to see the beauty of Mother Nature amidst the waterfalls and greeneries in its purest form.
4. Horton Plains walk
Horton Plains is located on the southern plateau of the central highlands of Sri Lanka. It is named as a World Heritage site in the year of 2010. The peaks of Kirigalpoththa and Thotupola Kanda, the second and the third highest of Sri Lanka, are situated to the west and north respectively. This is a wonderful hike where you can go into the ancient cloud forest covered by wild grasslands and interspersed with patches of thick forest, rocky outcrops, filigree waterfalls and misty lakes. The park is rich with most endemic flora and fauna in the island. The World's End can be known as the key attraction in the hike, which is a sheer precipice with a 2,854 ft drop. Apart from that, you can embrace the water spray of Baker's Falls and Slab Rock Falls which also form part of Horton plains. This is a beautiful, silent, strange world which is a must to have in your travel list.
5. Bambarakanda Waterfall Excursion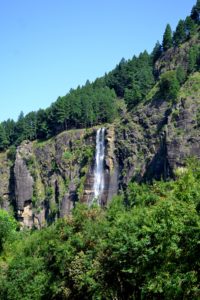 Bambarakanda is the tallest waterfall in Sri Lanka with a height of 263 m (863 ft) located in Kalupahana, Badulla District. Bambarakanda is formed by Kuda Oya, which is a branch of the Walawe River. There are another two virgin falls near Bambarakanda, namely Lanka Ella and Yahalathenna where you can see en route to Bamabarakanda. The view from the top of bamarakanda is spectacular and nothing can be compared to hiking through beautiful landscape. The water is crystal clear and pure. Every nature lover should include this in their traveling bucket list.
6. Hikkaduwa Coral Gardens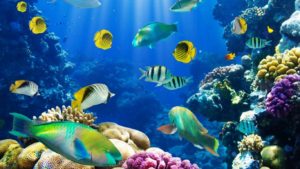 Hikkaduwa National Park is one of the three marine national parks in Sri Lanka with a fringing coral reef of high degree of biodiversity. Inter-monsoon seasons (July–August and December–March) dry periods which is considered the best season to visit the park. A much better way to explore the reefs is by snorkeling. If you go diving with some of the expert local divers then you can explore the coral reef to your hearts content. If you are a nature lover and marine life in particular then this is the best way to go about it.
7. Yala Safari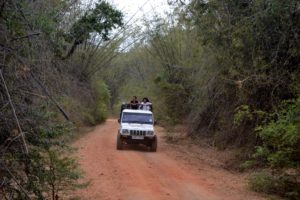 Yala, being the most visited national park in Sri Lanka, lies on the southeast coast of the island. It is a home to more than 200 species of birds and 40 species of mammals. Yala is having the highest density of Leopards than anywhere in the world and it is the main attraction of this game park. And if you are lucky enough, you can also witness the Sri Lankan Sloth bear, which is a native habitat of Sri Lanka and also the only bear species found in this island. This is a paradise to the wild life photographers and nature lovers and you can enjoy a real life safari to the middle of the park through bumpy roads.
8. Sri Paada Trail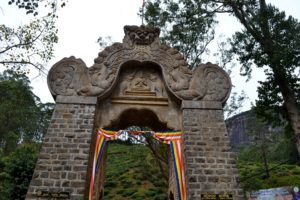 Sri Paada, which is also known as the "Adam's Peak" is the fourth highest mountain in Sri Lanka with a height of 7350ft. Sri Pada is respected as a holy site by Buddhists, Hindus, Muslims and Christians.  As per the legend, the footprint was made by the Lord Buddha on thr prak of the mountain, on his third and final visit to Sri Lanka. Belief of Muslims is that it is the footprint of Adam. Hindus believe that it is the footprint of Lord Shiva. Christians believe that it belongs to St. Thomas the Apostle. The Sri Paada is best known for the picturesque view of the sunrise which can be viewed from the top of the mountain. You will get to see a spectacular view of the golden sun rays that touches the peak and the surrounding clouds. This place can be considered as a symbol of harmony as pilgrims with different beliefs join together for one journey. Undoubtedly, this journey will give you a great experience and being a Sri Lankan, you should get this traveling experience at least once in your lifetime.
9. Hanthana Hike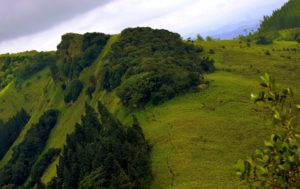 Hanthana – "Symbol of Lovers" located in the city of Kandy, the Hanthana Mountain range is one of the hiking adventures you would always want to go on more than once. This range is a favorite destination among the mountain hikers in Sri Lanka. This consists of seven peaks of which the highest peak being Uura Kanda. It is a beautiful delightful set of hill tops with a cold, windy atmosphere and a breath taking view. In fact Hanthana is the mountain which has been used highest number of times in Sri Lankan songs.
10. Point Pedro and Dondra Head (Vertical Extreme Points of Sri Lanka)
The Point Pedro is located in edge of road between Kankasanthure and Velvetithurai, Jaffna District, Sri Lanka, at the northernmost point of the island. This point is marked by a concrete board on the edge of a corral with a Sri Lankan Flag painted on it.  This site is easily reachable by any vehicle along the road which goes along the beach. You can stop your vehicle here and walk up to this point over waves and coral reef. The Dondra Head is a cape on the extreme southernmost point of Sri Lanka, located near the small town of Dondra or 'Devundara'. It might interest you that Dondra Head was once the capital of the country. However, the Distance between these points is 543 km. Being a traveler, stepping in to these vertical extreme points of the island can make your traveling diary more valuable.